News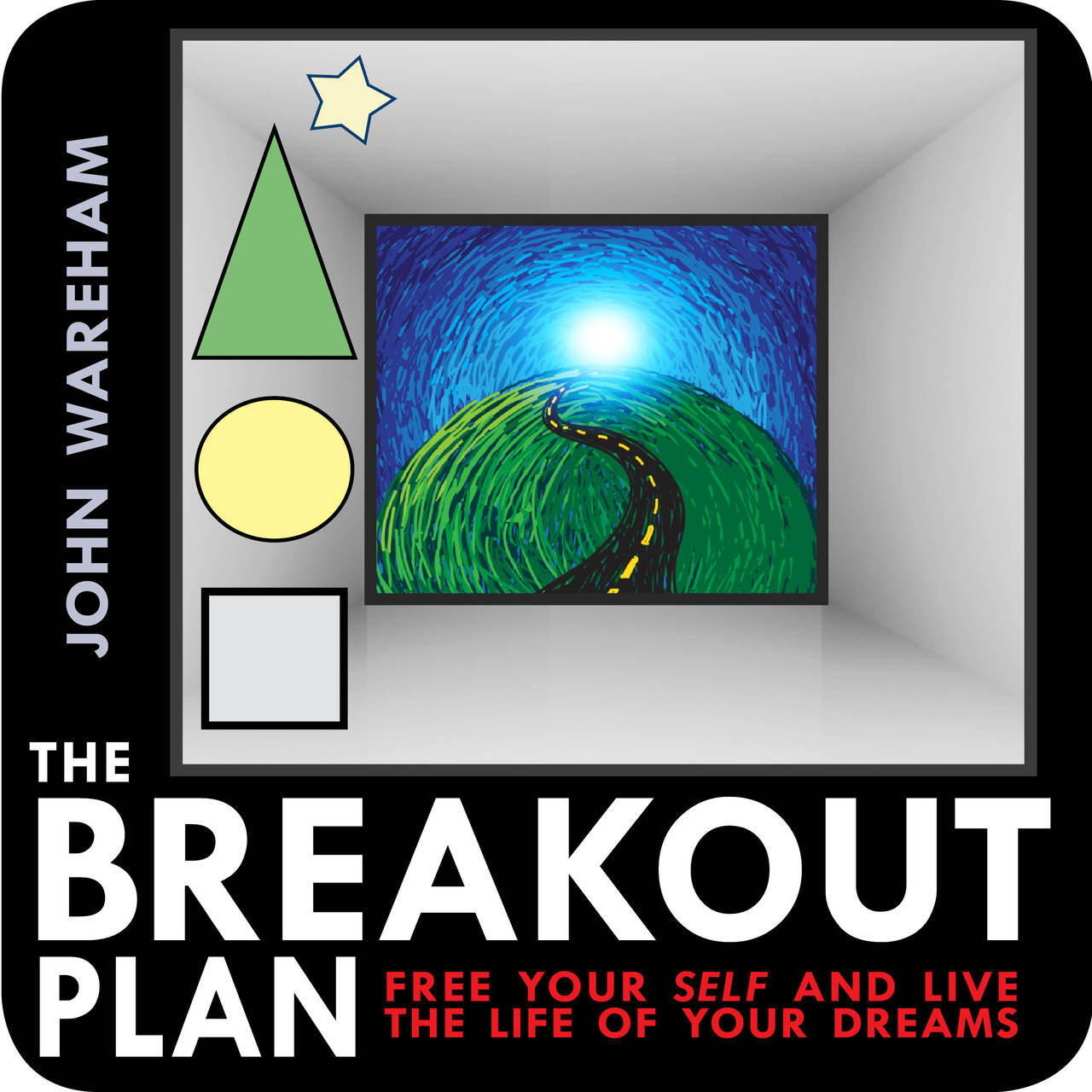 Wareham Podcasts Nominated for Pulitzer Prize for Audio Journalism
Listeners Worldwide in 400+ cities
John Wareham is coach to corporate chiefs, fallen angels and stymied upward strivers. Rikers Island denizens dubbed him'the Wizard of Cell Block C76.' He is Chair of the Eagles Circle Foundation, a New York registered 503C not-for-profit corporation, whose mission is to transform fallen angels into community leaders.
In The Breakout Plan podcasts, John and a team of graduates of his maximum security prison classes share a unique, street-smart insights into why we get trapped in the 'wrong life', then a 'proven, practical, doable, achieveable formula for creating the life we truly want.'
"If ever there was a master key to the mental penitentiary, this is it. Wareham shares a riveting journey into the heart and soul, and presents a profound and creative thesis for transforming a specious sense of personal autonomy into a pure sense of freedom."

—Jess D. Maghan, professor emeritus of criminal justice,

University of Illinois at Chicago,

former director of training New York City Police and Corrections Departments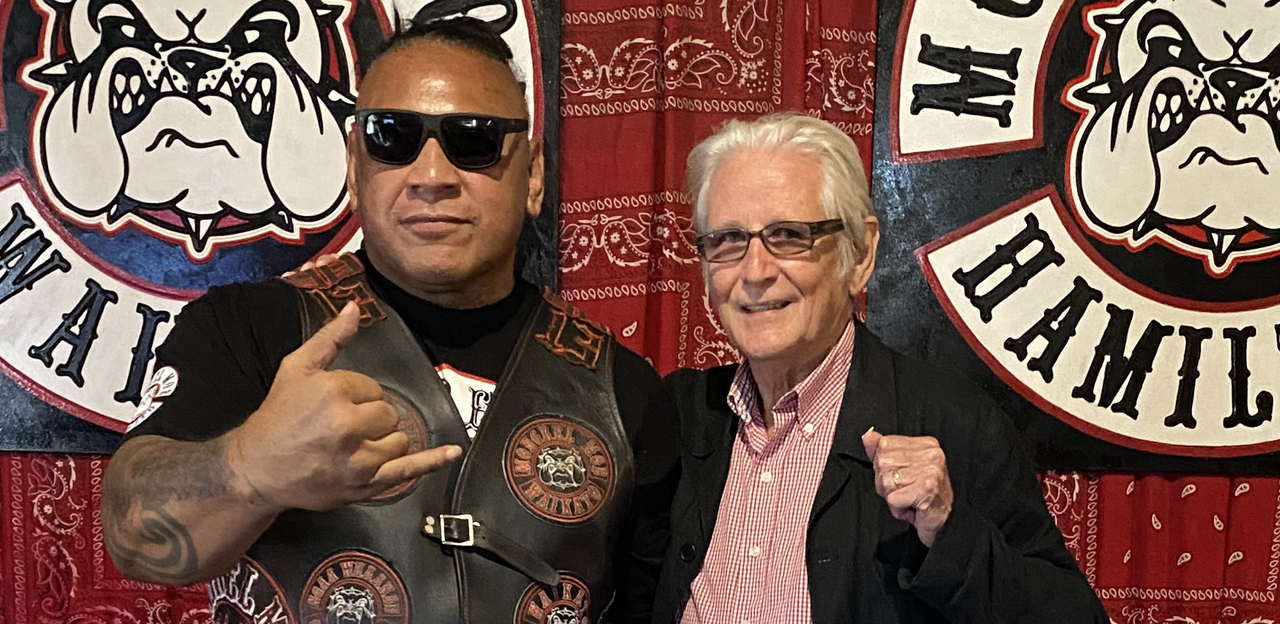 How to Win the War On Gangs
Prison reformer meets with 'Kingdom of Mongrel Mob' gang and urges them to identify as global citizens
Mongrel Mob Kingdom Headquarters, Hamilton, New Zealand, March, 2022
At a meeting in Mongrel Mob Kingdom headquarters, Eagles chair John Wareham urged gang leaders to disregard 'race-based' labels, and accept the simple fact that first and foremost they are as global citizens.
"Whether we know it or not, or like it or not, we are all members of the same tribe. Above all else, we are all homo sapiens and as such all equal global citizens. Our cultural inheritance, often miscalled 'race', comes second."
"This concept, global citizenship, is the heart and soul of 'cosmopolitanism', said Wareham, acknowledging the term coined by renowned, Ghanaian raised, Cambridge educated, Princeton professor Anthony Appiah. "And, the truth that we are part of one global tribe is firmly based in recent research showing that humans all share the same genetic makeup."
In the course of his talk Wareham also:
likened current Mongrel Mob members to Rotarians, noting that members of both groups wear insignia proudly, and join for kinship, community service, and economic advancement;

shared the pervasive race-based fallacies that cause prison programs to fail;

noted that current prison policies have created a situation whereby 'inmate counselors are dedicated criminals who specialize in teaching crooked behavior.

invited Mongrel Mob members to help advocate a 10-point proposal for prison-reform;

credited cosmopolitanism for a dramatic decline in recidivism rates among the graduates of his maximum-security New York Eagles prison rehabilitation program.
"Armed with a new perspective on the syndrome of serial incarceration, upon release Eagles graduate sidestepped social quicksands and went on to become productive citizens. To be fair, cosmopolitanism has also currently swept most of the free world. New Zealand is in catch-up mode," he said, "but as officialdom becomes wiser, race-based labels will become an entirely unacceptable relic of past colonial history."
Read Full Transcript of John Wareham advice to Mongrel Mob, here now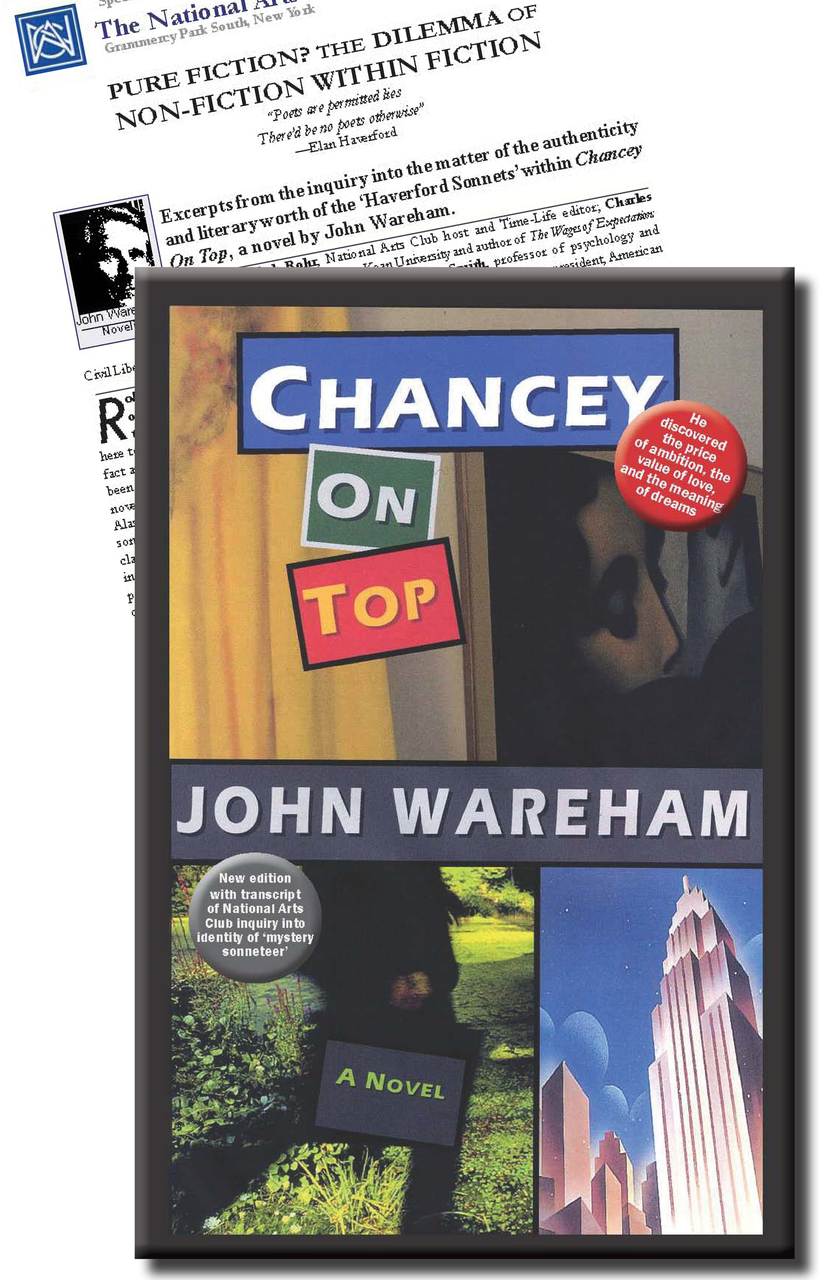 National Arts Club Inquiry Appended to Chancey On Top
Formal inquiry attracts ACLU acclaim, and high praise for sonnets within 'wildly entertaining literary novel'
By way of offering full transparency, a new edition of John Wareham's metafictional novel Chancey on Top appends an allegation of 'literary malfeasance.' The accusation appears in an appended transcript of a formal New York National Arts Club Inquiry into the dilemma of non-fiction within fiction.
Wareham's accuser, Professor Emeritus Brian Sutton-Smith of Penn University, attempted to argue that five sonnets vital to the novel were not written by Wareham, but were the work of an unidentified 'brilliant sensitive British aristocrat lass'. He also criticized a scene involving a sexual liaison between a protagonist and the late Princess Diana.
Professor Sutton-Smith was one of a three-person panel conducting the inquiry into Wareham's novel. Other panellists were Nadine Strossen, chief executive of the American Civil Liberties Union, who hailed the novel as 'brilliant and compelling'; and Charles DeFanti, Kean University professor of literature, who said the work was 'a superb example of Wareham's realist cinematic writing style'.
Asked to comment on the new edition, author John Wareham said, "I can't think of a higher compliment than for a critic of Professor Sutton-Smith's stature to believe that sonnets I created for a work of fiction were in fact penned by a sensitive British aristocrat. So I'm delighted to have this NAC Inquiry appended to my work, it's a perfect fit."
Listen to Haverford Sonnet and Professor Sutton-Smith's critique
To read full Transcript of National Arts Club Inquiry, click here now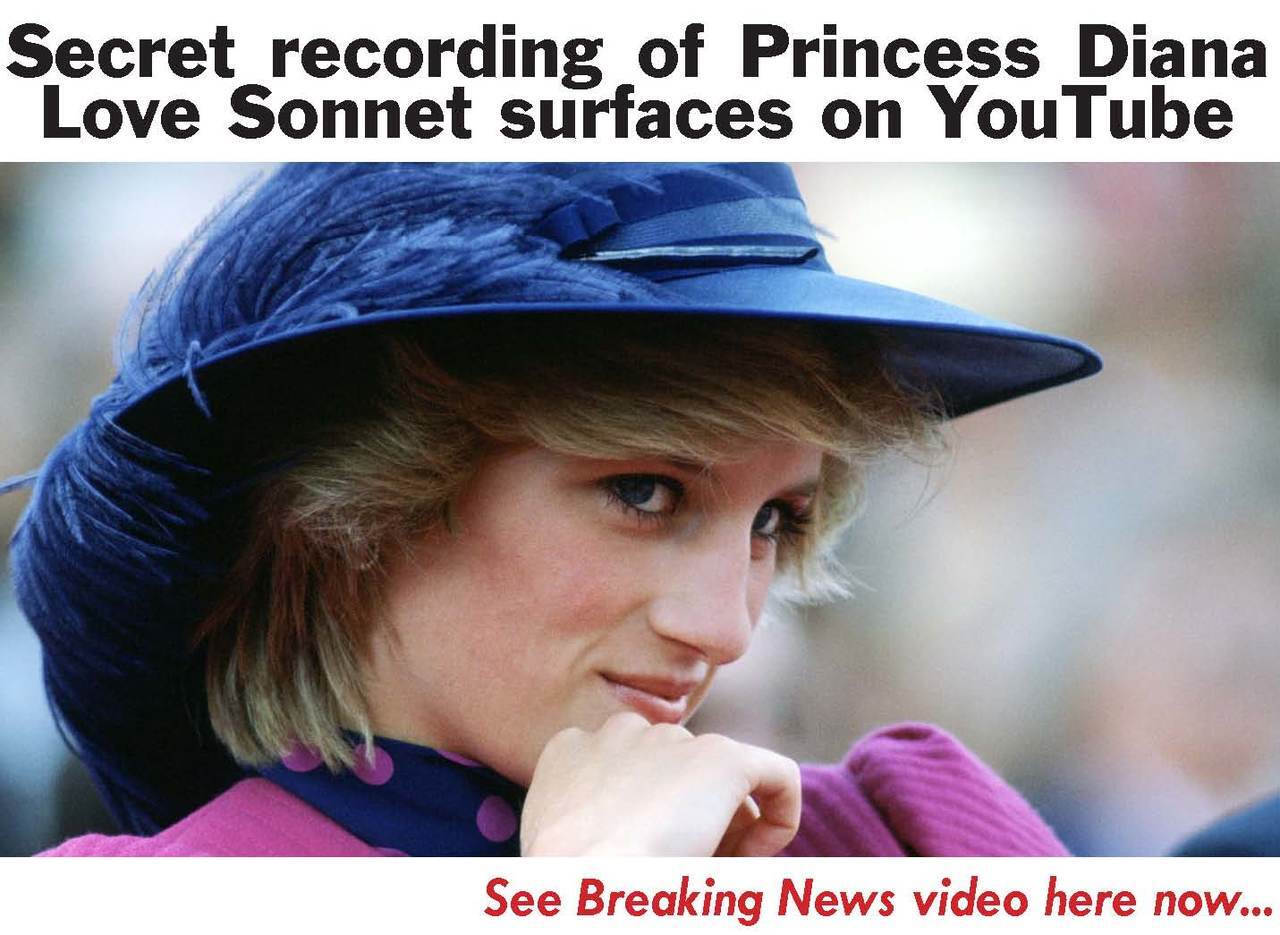 VIDEO OF LADY DIANA LOVE SONNET SURFACES
The Lady Diana Love Sonnet was distilled by John Wareham from her infamous CNN interview with Martin Bashir. The sonnet has been widely acclaimed. Lady Diana herself may have recorded a version of it, as a video has now surfaced on the internet. The poem, first published in John Wareham's novel Chancey On Top, then included in his later bestselling anthology, Sonnets for Sinners (everything one needs to know about illicit love): click here now to view or purchase it at Amazon.com
A WICKED EVENING OF ILLICIT LOVE ENDS WITH A BANG
Review by Lorraine Steele, Flatiron Press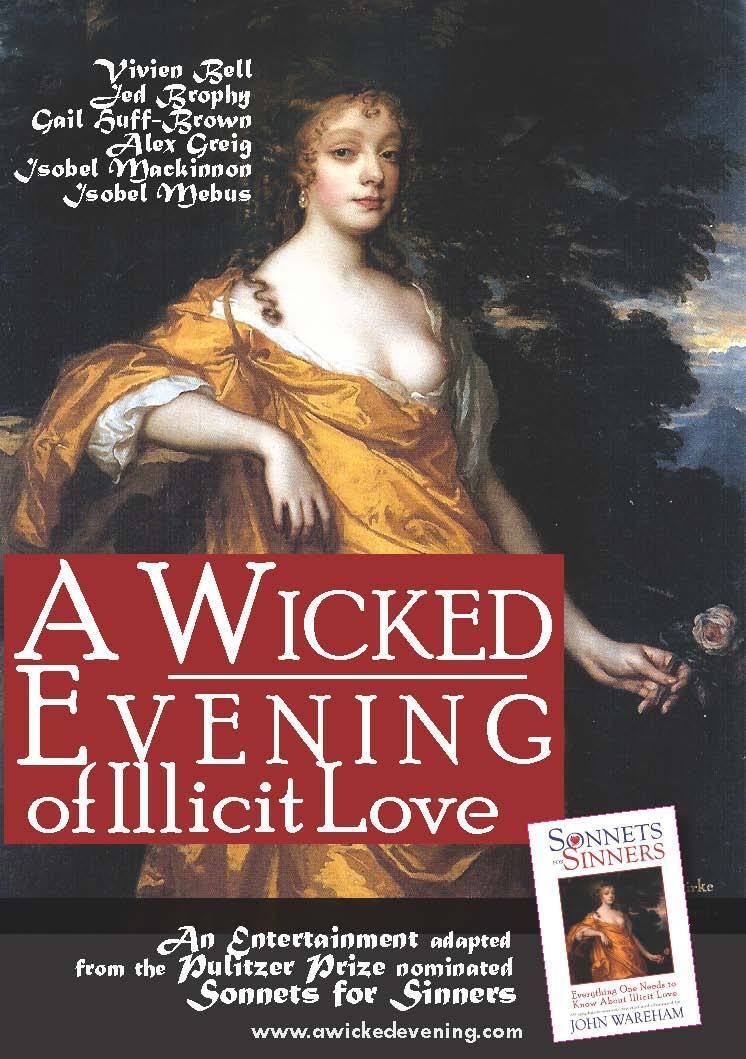 'A Wicked Evening of Illicit Love', the stage adaptation of John Wareham's anthology of 'Sonnets for Sinners', closed with a bang not a whimper.
Top actors delivering sonnets from classic and modern poets, and contemporary celebrities, drew gasps, sighs and outright hilarity, as the production made good on its promise of 'a night of love, laughter and enlightenment'. Passion, poetry and epiphany indeed played out as a literary voyage chronicled sinners' journeys from attraction and fever, to heartbreak, understanding and transformation.

Their public utterances having been artfully distilled into sonnets by playwright John Wareham, a galaxy of contemporary celebrity sinners came to life on stage and to engage with the likes of William Shakespeare and Edna St. Vincent Millay.
Warm applause again punctuated the #metoo line within a Monica Lewinsky sonnet, splendidly delivered by Gail Huff-Brown, wife of American Ambassor Scott Brown.
Enlightenment came in a cluster of memorable closings, with the poignant 'Princess Diana Love Sonnet', and 'In my dream inner spring came rising' by Elan Haverford.
The audience included chief of the Shakespeare Globe Centre Dawn Sanders, eminent playwright Dave Armstrong, and noted Kiwi actor Nick Blake who flew in from Bangkok to catch the show.